here we can discuss the various aspects of dead space, it's tech, and it's characters.
Planet Cracking
the operation preformed by a planet cracker class vessel made by the CEC (concordance extraction corperation).
http://deadspace.wikia.com/wiki/Planetary_Mining
on planet cracker vessels each is armed with an ADS cannon for defense against the rocks and asteroids that will be made during the planet crack.
http://www.youtube.com/watch?v=uROzLPzURLY
(excuse the guy)
most rounds destroy fairly large asteroids with a heavy, seemingly explosive canister.
these cannons can also be used for anti-ship capabilities as shown in this video.
http://www.youtube.com/watch?v=ILQDPhRqA_E
2:50
but can also be intercepted with accurate fire.
using gravity tethers the planet cracker pulls off a continent size chunk of the planet to better mine at whats inside.
http://www.youtube.com/watch?v=_sPQ_lZPe_Q
mentioned 6:10-6:20, at 9:10 to the end they 'pop the cork'
Telekinesis (Kinesis):
a technology that allows engineer's and others armed with kinesis module can suspend small and large objects in an anti-gravity field that can be manipulated by the users hand.
http://deadspace.wikia.com/wiki/Kinesis_Module
the kinesis can launch sharp (or just somewhat pointy objects) at extreme speeds, enough to pierce bodies and impale them into walls.
http://www.youtube.com/watch?v=S7DiRDvo1WQ
at 5:00 isaac first gets into the room where he finds the kinesis module to implant it into his RIG.
6:08-6:18 he grabs the sharp object and it is immediately aimed the right side out. when he launches the object there is a very distinct 'boom' of a sonic boom. this suggests that he launches these projectiles just fast enough to break the sound barrier.
Stasis:
based on quantum physics, this allows engineers (or those armed with RIGS with a stasis module) to slow down time in a small area of effect.
http://deadspace.wikia.com/wiki/Stasis_Module
it can be used on anything, anyone, and any creature.
http://www.youtube.com/watch?v=xYTTTJ_igAo
7:50 to 8:00 shows it in action. (that death event is scripted to be a one shot kill. you need to restasis him before you can kill it.)
Plasma cutter
a weapon used in dead space for mining through rocks with an ionized plasma in either a horizontal or vertical line. also used to dismember necromorphs.
http://deadspace.wikia.com/wiki/211-V_Plasma_Cutter
with a fully upgraded plasma cutter in DS 2 it can have an additional chance for causing plasma fire. From DS3, the plasma cutter can be upgraded in numerous ways.
in FP CIDE did a few calcs that brought the plasma cutter to a whole 1.5MJ with help from this pic.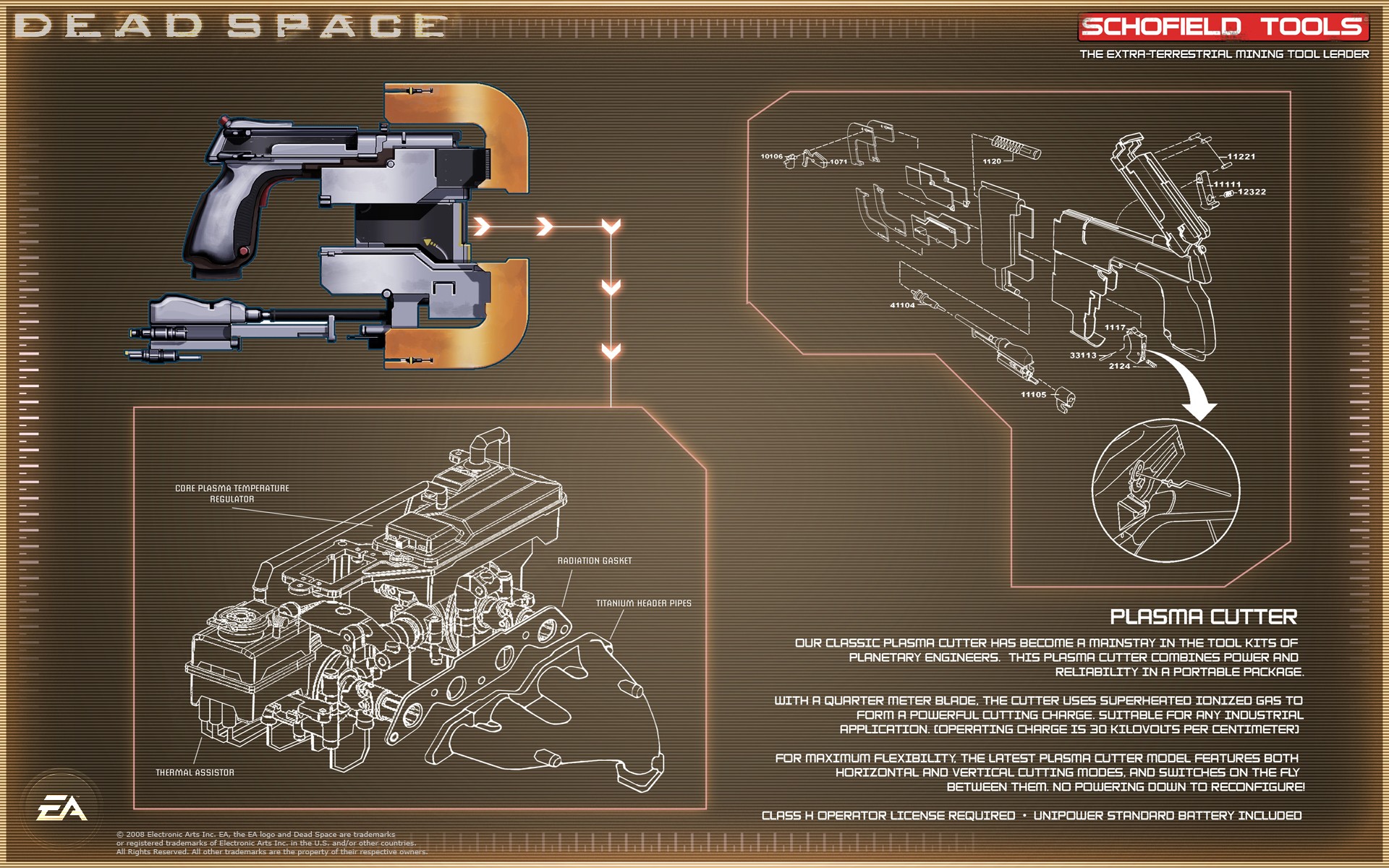 "Never mind. It was a 25 cm long arc with 1-2cm wide and the manual from the first game stating it was 30 kilovolts per centimeter. If I'm correct that's about 1.5 megajoules."
~CIDE
and a response from Galorian
@CIDE
1.5 megajouls is 75 times the kinetic energy of a 50 cal round, and 300 times the energy discharged when the covenant's type 25 directed energy rifle (covenant plasma rifle) fires a round…"
~GALORIAN
all this can be found in this match
http://www.factpile.com/6584-grayson-hu ... ac-clarke/
The Resource Integration Gear (RIG)
a health management and strength augmentation gear.
http://deadspace.wikia.com/wiki/Resourc ... ation_Gear